Presentation Skills Training in Toronto:
Presentation Courses at Voice & Speech
Expect Excellence
Novice and seasoned presenters alike can benefit from presentation skills training – Toronto presentation courses that help you capture attention and inspire others to take action. Because whether you're motivating sales representatives for a product launch, or securing budget approval for a bold new venture, the ability to engage your listeners and win their cooperation is critical to the success of any presentation.
Effective presentation skills are about much more than giving a good performance. They're about getting results. A good presenter is focused on the message and tuned-in to the audience, not preoccupied with the mechanics of the process. Our presentation training courses in Toronto address such issues beforehand, so you're prepared to take the floor and deliver. You'll learn how to create compelling content that makes your listeners care about your message. You'll discover how it feels to be fully engaged in your delivery, for maximum impact. And you'll become a speaker that people love to watch.
Put Yourself in Good Hands
Experienced presentation coach Jay Miller, and his colleagues, create a relaxed and collaborative environment for exploring new possibilities and strengthening existing communication skills. Their professional and straightforward approach will instill you with the confidence necessary for clear and profitable presentations that get the results you want.
Our Toronto presentation skills training courses range from half-day intensive workshops, to customized programs spanning several weeks. To learn more, contact us.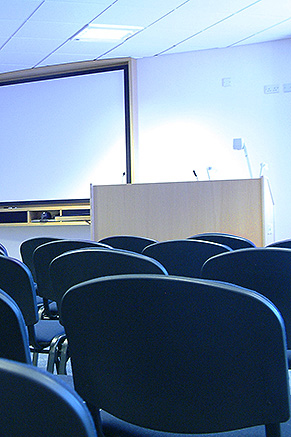 Thank you Jay. Your coaching was exceptional, and it truly made a difference in my presentation to over 775 bankers at the Convention Centre. My gestures and eye contact with the audience were natural. As discussed, two keys were to rehearse and be grounded. I'll continue to practice the other areas we explored, especially about being expansive.
I can't thank you enough, and I'll be back, to enhance the skills you taught, sometime in the future.
I.K.
Senior Manager

I gave four different presentations this week to four very different audiences and they all went well. Several people came up to me after each talk and told me my presentation was excellent. So THANK YOU for your help!
A.H.
Global Business Manager
I want to mention how much your classes have had an impact. I feel more confident and I often get complimented on my public speaking, especially if i'm giving a presentation. I've learned to slow down, project, and breathe! Thanks for the roadmap to successful speaking!
R.K.
Investment Entrepreneur