Download Speaking Voice Exercises:
Voice Training Lessons on Video & MP3
Proven Exercises Help You Develop 
a Strong, Confident Presence
For over 15 years, prominent speaking voice coach Jay Miller has helped hundreds of people talk more clearly and confidently. He's now recorded voice lessons in streaming video and downloadable audio (mp3) formats, allowing you to train your speaking voice for a fraction of the cost of even a single private lesson.
The speaking voice exercises* on Your Confident Voice will help you to:
eliminate mumbling and speak clearly
project authority with a deeper, richer, or more mature sound
slow down or moderate your rate of speech
develop a stronger voice with increased stamina
talk with confidence, credibility and impact
A Powerful Step-By-Step Program
These voice training programs provide expert tips and time-tested speaking voice exercises. The lessons will guide you in discovering how to relax your body, release your breath, and deepen resonance, to fully realize your most compelling voice.

Hear a sample from the audio (MP3) program:
Watch a sample from the video program:
Jay's powerful voice training program was previously only available by working personally with him. Now, you can inexpensively access his voice lessons and work at your own pace, to optimize the effectiveness of your communication.
Watch the streaming video course or download the MP3 audio training program, Your Confident Voice, and begin your exciting vocal transformation, today:
*Speaking voice lessons involve gentle physical and vocal exercise. Consult your doctor before engaging in this or any other program.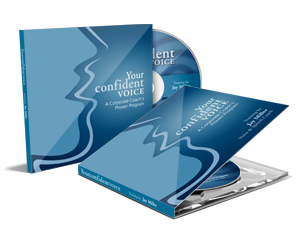 I have gone through your entire mp3 program and have learned a lot! For years, I have been trying voice lessons from various books, but your program has allowed me to make the most noticeable improvements to date.
Previously, when I spoke with clients on the telephone, they often asked me to repeat myself. Recently, I noticed this rarely happens – because of your lessons. Thanks for your interest in my progress, and for your excellent digital course that makes it possible for everyone to improve their speaking voice.
W.C.

I bought your program because I wanted to recondition my speaking voice, and it's had an immense effect. During performances, I'm more relaxed and I have more breath support. Thank you so much for doing what you do!
M.N.
Professional Singer
I wanted to send you my thoughts on "Your Confident Voice", which I've been working with for several months. Following the training sessions I did through your office, I found the mp3 program to be a great help in staying on track with regular practice.
The audio playback is infinitely more practical than a written outline, and the material is properly paced so I can practice alongside it without having to pause and rewind. For my work on stage, it has been a very valuable tool!
J.A.
Performer