Develop a Powerfully Attractive Voice:
Free Video Mini Course – The Sound of Success
Voice Problems? You Can Have a Strong, Rich, Confident Voice!
It's no secret that the sound of your voice can make the difference between failure and success. Because so much in both your personal and professional life depends on how you make people feel – and that goes much deeper than the words you use.
Some people have voices that are distinctly attractive. You find them engaging. You trust them. And you want to be connected to them. That's the "sound of success". Everyone has that potential. Even if you currently have voice problems, you can develop it.
The Sound of Success is a free video mini course with Jay Miller, a prominent voice and speech coach. Within this course, Jay focuses on common voice problems and how to address them.
Does your voice seem immature, too high or doesn't project well?
Are you speaking too fast, mumbling, or have to repeat yourself?
Or do you need to overcome nervousness and speak with more confidence?
Then this weeklong video course contains valuable information for you!
The Sound of Success provides a concise overview of important vocal concepts, voice problems, and sample exercises to try yourself. Discover how easy it can be to develop a powerfully attractive voice: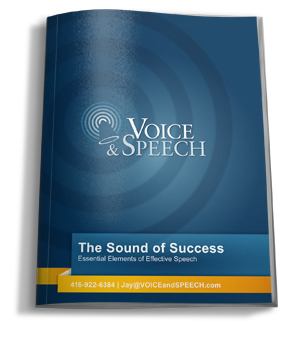 Thank you very much for your dedication to helping me find my voice and also use it effectively! The moment I found you I knew you were the right person to help me. I signed up for the trial lessons and just by following those exercises I found my voice!
Thank you so much and keep up the good work!
J.M.
Athletics Coach