Voice Training Classes in Toronto:
Group Vocal Lessons
Develop a Strong, Confident Speaking Voice –
In as Little as 4 Weeks
Could you benefit from voice training classes in Toronto? Group vocal lessons can help you quickly and affordably develop a richer, clearer, more persuasive voice.
We know it's not nice to judge people. But like it or not, clients and colleagues may assess your competence and potential just from the sound of your voice. A weak, unclear, hesitant voice can undermine your image and cause your opinions to be ignored. It's frustrating, scary, and could be keeping you from reaching your full potential.
It's Time to Discover Your Whole Voice.
Welcome to Vocal Gym, a group voice training class in Toronto that meets every Tuesday evening, from 7:00 to 8:30 pm. Each session delivers one hour of highly specialized training, followed by thirty minutes of personal application and performance.
Vocal Gym is a workshop for growth-oriented business professionals who want to get their communication skills in shape. Through weekly participation you can achieve:
A Stronger, More Credible Voice
A Richer, More Attractive Tone
Clearer Speech with Better Pacing
Projected Confidence & Authority
Voice training is about more than your professional image. It's about your ability to express the very best of who you are. You'll be amazed at the changes you'll see, in as little as 4 weeks!
Can't make it to our Toronto studio? Group classes are also available online via Skype! Learn more about our private or group voice training classes by contacting us, or requesting a free 15-minute telephone consultation: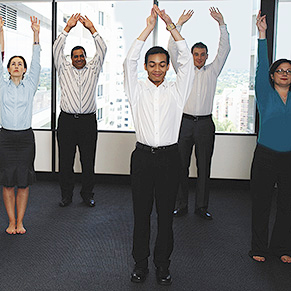 Your voice program has helped me tremendously, and in unexpected ways. I've been much more engaged with people, and continuously create more of a collaborative team environment. I deal better with conflict, and make my points in a discussion more emphatically.
Taking time to breathe properly has been at the core of it all, and with your training, it has been much easier to master. So thank you again. Your class had a very positive and lasting effect.
M.D.
Benchmarking Analyst

I had a meeting with our consultants last week, including one who had been quite critical about my voice. I told her about the work we were doing. She said she has heard a difference and was really pleased with my progress. That alone is worth the money for the lessons. So thanks!!
S.D.