Overcome Stage Fright, Performance Anxiety,
or Fear of Public Speaking with mp3 Download
You Can Beat Stage Fright
Overcoming stage fright, or performance anxiety, may seem like an impossible challenge. Yet renown public speaking coach Jay Miller has successfully helped hundreds of his clients re-channel nervous energy and overcome public speaking fear through a combination of proven strategies. 
Hypnosis for stage fright (sometimes referred to as public speaking hypnosis) also helps many individuals overcome fear of public speaking, and enjoy their time in the spotlight. So Jay has teamed up with six-time award-winning hypnotist, Dr. Mike Mandel*, to deliver the most comprehensive program available to get over stage fright:
Overcoming Stage Fright and Performance Anxiety
mp3 download – 69 minutes
In this unique audio program, Jay Miller and Dr. Mike Mandel guide you through how to overcome public speaking fear. The program includes:
MP3 Track 1 (03:25) - Introduction, overview, and how to use the program to overcome fear of public speaking
MP3 Track 2 (25:24) - Jay reveals five strategies and skills guaranteed to help you manage nervousness, before and during your speech or presentation, and overcome stage fright. Hear a sample now:

Your browser does not support the audio element.

MP3 Track 3 (11:46) - Dr. Mandel introduces a breakthrough technique from the field of energy psychology that will instantly help in overcoming performance anxiety.

MP3 Track 4 (21:58) - Dr. Mandel guides you through a relaxing hypnosis experience enabling your unconscious mind to access and employ resources you already have within to get over stage fright. Hear a sample now:

Your browser does not support the audio element.
Supplemental Video (06:50)
Practicing these tested techniques delivers exciting results! Along with ways to overcome stage fright, you'll discover a new ability to express your ideas effectively – and make a powerful impression on your audience. So download Overcoming Stage Fright and Performance Anxiety now, and discover how it feels to truly overcome public speaking fear and present with confidence.
Note: This button will direct you to a PayPal purchase page called "Mike Mandel Hypnosis Products".
Total download size is 108 MB. All audio files are standard MP3. The supplementary video is standard flash video and plays in any video player. Never listen to the public speaking hypnosis track while driving, operating machinery, or doing anything else that requires your full attention.
*For more than 30 years, Dr. Mandel has performed therapeutic hypnosis in private practice. He is certified in a number of highly effective psychotherapeutic disciplines that get rapid results. A qualified trainer in Neuro-linguistic Programming, Dr. Mandel teaches advanced Ericksonian Hypnosis for NLP Canada Training Inc. He has assisted police investigations through the use of forensic hypnosis and performs stage hypnosis shows that consistently earn rave reviews.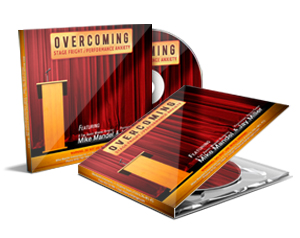 As a lecturer struggling with "performance anxiety", I participated in several courses to improve my speaking ability – but was disappointed when each was unable to address the specific physical problems I experienced when speaking. As a last resort, I decided to work with a voice coach and approached Jay Miller.
I can honestly say Jay¹s 12-session course turned out to be essential. Working with him was an enjoyable and transformative experience. He not only instilled confidence, with his knowledge and finely-tuned ear, but he was also fun and enthusiastic, caring, and empathic in acknowledging just how difficult speaking can be. Thanks to Jay, I now have a set of practices that calm my body and allow me to speak.
P.S.
Professor

Before seeing Jay, even the thought of delivering a formal speech could trigger a panic attack. Although I was nervous at first, Jay quickly made me feel comfortable, assuring me I was not the only person who suffers anxiety from public speaking.
After regular one-on-one sessions with Jay, I was able to manage my anxiety, and even enjoyed delivering a speech and formal reading. Jay's professionalism and expertise made him a pleasure to work with.
C.P.
Teacher