Voice Projection
Voice projection is an important speaking skill and the topic comes up frequently in my work. Your ability to be heard in meetings, in large rooms, or in noisy environments affects your credibility, as well as clarity. Your professional image is enhanced or diminished to the extent that you can fill a room and communicate your message clearly and successfully.
If you know you're not projecting your voice effectively, what do you do? Most people just try to be louder. But there are real problems with that approach. It's too much work. You end up pushing and straining. Your voice quickly fatigues, gets dry, scratchy and sore. You feel worn out and frustrated by the effort. And it just seems wrong, like you're not being yourself. In the end, you feel like you're shouting, but your listeners keep saying, "We can't hear you in the back."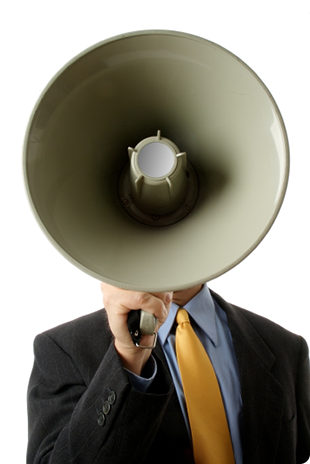 Pushing your voice is counterproductive and actually limits its potential. Voice projection happens most effectively when you allow the right thing to happen, rather than force the right thing to happen. Here's why.
Your voice is like a wind instrument. It needs a source of power (breath), a source of sound (your vocal folds), and a means of amplification (the bones and spaces of your body). When you try to project your voice by pushing harder, muscles contract, so breath flow is restricted and sound vibrations are dampened and diminished by tension. More work produces less sound. By contrast, if you relax and open up, breath flows generously. Sound vibrations flourish and travel further.