SEATING ARRANGEMENTS
Presenting from a Chair
Do you spend much of your working day in a chair? Is most of your presenting done while sitting at a table? If you're not aware of what you're doing, this can be a real trap. When you sit down, your energy tends to sit down, as well. It's so easy to relax back and allow the chair to support you. Your body collapses, your breath is restricted, your voice doesn't engage fully and you fail to make an impression in the room. How can you make sure you're cultivating a strong presence and maximizing the impact of your performance, even when you're seated? The essential principles for success are the same as for standing speech.
Grounding
When speaking from a chair, you still want both feet flat on the ground, but now, you have "a second pair of feet," your sit-bones. (You can feel those bones under your bottom when you're sitting erect on a very hard surface.) Your sit-bones become a second point of connection to the ground. If you're on your sit-bones, your body naturally aligns and supports itself. Sit on the front edge of the chair. Allow yourself to fall back onto your tailbone. Notice what happens to your alignment. Now come back onto your sit-bones and appreciate how the rest of your body aligns. You don't need to be rigid. There's no need to look stiff. But you do want to be in charge of your own support, not collapsing into the back of the chair.
Breathing
When your body is relaxed and aligned, you can still breathe deeply, even when seated. (In fact, some people find it easier to feel their breath in a seated position, than when they're standing.) Keep your belly relaxed as you inhale through your mouth. Avoid lifting your chest. Feel the in-breath expanding your entire waistline. You can even imagine your in-breath flowing down and filling the seat of your chair. Now, fall back onto your tailbone. Notice how the area under your sternum tends to collapse. Come back onto your sit-bones. Feel how the belly area becomes open to the in-breath. Even when seated, you have access to the same breath power that's available when you're standing.
Resonance
When your body is grounded, relaxed and expansive, and when you're breathing deeply, you have all the basic ingredients for cultivating sound vibrations. Look for torso vibrations (chest, sides and back) and skull vibrations. Allow your body to collapse backward into the chair. Notice how sound vibrations feel muffled. It's like laying a bell on its side. Come back onto your sit-bones. Feel how every surface of your body is now free to transmit sound vibrations, like a bell suspended from its center. When your whole body vibrates with the sound of your voice, you'll be speaking with real impact.
Of course, you don't want to be conspicuous and look like an over-eager student when the rest of your colleagues are relaxing back in their chairs with their legs crossed. But when you have the floor, there's no reason you can't come forward in your chair, feel the ground under you, sit up to your full height, breathe deeply and speak with your whole body. You'll feel strong, look confident, speak with authority, and make a real impression.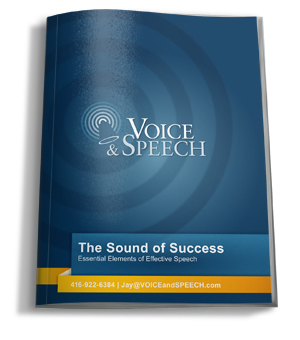 The Sound of Success
Enroll in this FREE video mini course and discover a powerfully attractive voice.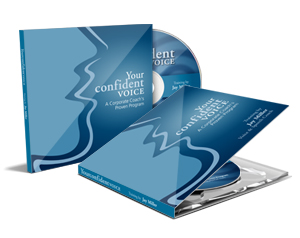 Your Confident Voice
This 145-minute mp3 download is a complete speaking voice course. The simple but amazingly effective program is
on sale this month!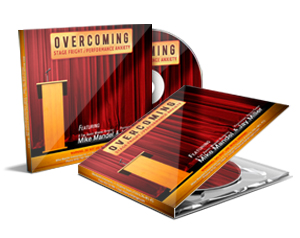 Overcoming Stage Fright and
Performance Anxiety
On this mp3 download, Jay Miller teams up with six-time award-winning hypnotist Dr. Mike Mandel to deliver the most comprehensive program available for reducing or eliminating stage fright.